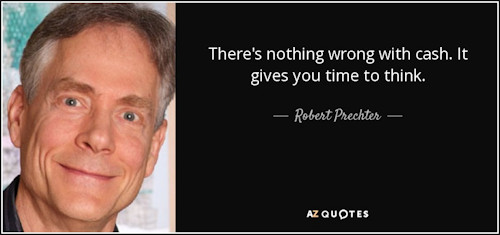 By Elliott Wave International Avi Gilburt of ElliottWaveTrader.net conducted the following interview with Bob Prechter recently. We thought you'd like to see it. ~ Tim McMahon, editor. ********* 1. How did you come across Elliott wave analysis? My dad subscribed to Richard Russell's Dow Theory Letters, and he would occasionally forward his copies to me. In 1968, Russell began writing about A.J. Frost's Elliott wave work. He published wave interpretations for the Dow off and on through late 1974, when he called the end of the bear market. During that time, I began charting gold and gold stocks, labeling the waves. After I became a professional technician at Merrill Lynch in 1975, I went on a search for Elliott's original books, which were published in ring binders. The Library of Congress didn't have them. Finally I found copies on microfilm in the New York Public Library. It was a thrill coming across those listings on library cards. In 1980, I republished Elliott's original books … [Read More...]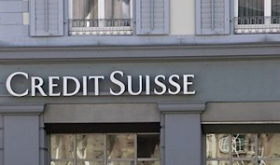 March 21, 2017 By Chris Vermeulen Leave a Comment
Political uncertainty and geopolitical risks have kept wealthy investors out of the stock market's rally of new highs. "Now's the time for them to jump back in and take advantage of the gains still to be made", say the people looking after their … [Read More...]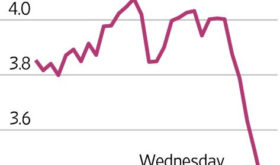 March 8, 2017 By Elliott Wave International Leave a Comment
Originally hedge funds were designed to make modest gains during bull or bear markets but today they are often weighted to make substantial gains during down markets but what happens if the fund is weighted toward the downside and the market rallies … [Read More...]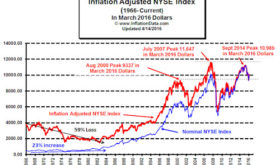 March 7, 2017 By Chris Ciovacco Leave a Comment
Despite all the talk of the Dow making new highs over the last few years the truth is actually quite different. The way an index is "weighted" can make all the difference in how it looks. In addition indexes that change their composition regularly … [Read More...]

There are nearly 50 commodity markets traded all over the world at any given time. That's one for every state in the United States. So, how is an investor or trader supposed to know which of these markets to follow and which ones to dismiss?
Actions Speak Louder Than Words — If you want to know what someone really thinks about the stock market, look at their recent portfolio transactions. What can we learn from recent moves made by two of the world's most respected value investors?

According to Investopedia – the Moving Average Convergence Divergence (aka. MACD) is a trend-following momentum indicator that shows the relationship between two moving averages of prices. The MACD is calculated by subtracting the 26-day exponential moving average (EMA) from the 12-day EMA.
Total index investing today exceeds 4 Trillion dollars.Why has the share of index fund investing gone from basically zero in 1985, to more than 35% in 2016?

In this interview, Wayne Gorman, veteran Elliott wave analyst offers tips and strategies for trading options using Elliott Waves.

The Dow Jones Transportation Average has failed to print a new high above the previous high made in 2015. Given the Dow has made a new high, a Dow Theory non-confirmation remains in effect.

How does the current 50 day and 200 day moving average on the S&P 500 compare from previous crashes with the current market situation?
Gold has a strong negative correlation to other assets. That means that when other markets fall gold can hold steady or even rise. This makes it the ultimate portfolio insurance.

A retest of prior resistance may be in the cards, which is exactly what happened in early 1995. In 2016, the Dow Jones Industrial Average (below) may be in retest mode.