On Tuesday, CME and CBOE TV financial commentator Alan Knuckman said on Fox Business, "Trump's historic tax cuts will boost most American corporate earnings lines by at least 20% in 2018 — sending stocks soaring still from their current levels."  He is predicting that the Dow will reach 30,000. He said, "The Dow Jones Industrial Index is now within 21% of the 30,000 milestone which is very achievable after returning 25% in 2017."
But after being up so much in 2017 isn't it "overvalued"? You might ask. One reason for optimism is that even after being up so much earnings are up about the same amount. So the P/E ratio is roughly where it was a year ago, i.e. slightly above 21%. That is just slightly above the average level and well below peak levels. With corporate earnings up another 20% due to tax reform this year, prices could go up that much as well and the market still wouldn't be overvalued.
So let's look at what Chris Ciovacco of Ciovacco Capital Management has to say.  ~ Tim McMahon, editor
 New Long-Term Equity Breakout
13-YEAR CONSOLIDATION
We have covered numerous long-term bullish breakouts in the equity markets over the past fourteen months. Last week, the ratio of consumer discretionary stocks (XLY) relative to consumer staples (XLP)  broke above an area of resistance that has been in place for 13 years.  When investors are confident about the economy and markets, they tend to prefer consumer discretionary/cyclical stocks over consumer staples.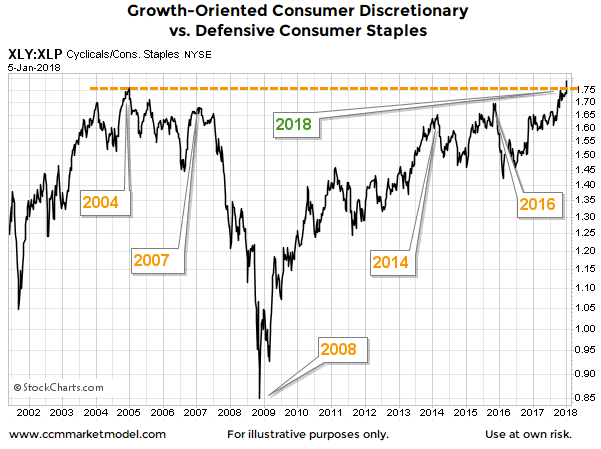 HISTORICAL EXAMPLE
Market fractals tell us markets move in similar ways on multiple timeframes (short, intermediate, and long).  After a two-year period of consolidation, the XLY/XLP ratio broke out in 2013, signaling an increasing appetite for economically-sensitive assets.  After we could observe, measure, and record the breakout in 2013, the S&P 500 tacked on an additional 30% (see bottom portion of graph below).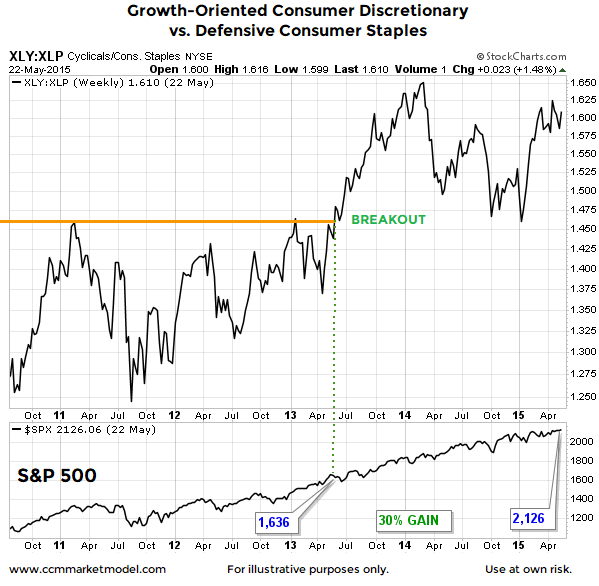 CHESS MASTERS, FIGHTER PILOTS, AND STOCKS
This week's stock market video demonstrates how time-tested strategies leveraged by top chess players and fighter pilots can be used to manage risk and reward in the financial markets.
A SECONDARY BREAKOUT
Last week's breakout in the XLY/XLP ratio is a secondary piece of evidence in the bull/bear equation that falls into the "interesting" rather than "critical" category.  All things being equal, we prefer to see a healthy XLY/XLP ratio, but viewed in isolation, it is not a reason to alter our investment allocations in any way; that would also be the case if the recent breakout failed.
ALIGNS WITH BULLISH EVIDENCE
If we take a weight-of-the-evidence perspective, the XLY/XLP breakout aligns with the mountain of bullish evidence covered in the past 13 months.
This article originally appeared here and has been reprinted by permission.
You might also like: